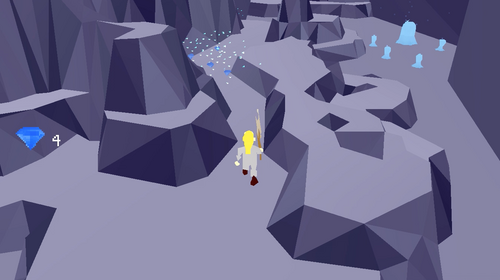 Hi everybody,
It's been about 7 months since I started developing Giant's Chalice, envisioning a quick project that emulated the look of the Playstation. Now the game is essentially built and all that remains is to refine the project across the board. Recently I've tackled holes in the programming that I put off until the end for expediency, such as the shopkeep's inventory re-rolling itself every time the game changed scenes, and the ability to spend Gold even into negative numbers without limits. Moving forward A.V. Knights will focus on two major fronts: the Completion of and the Release of Giant's Chalice.
Completion
Continued play testing and bug fixing. If you're following the development of Giant's Chalice and you'd like to spend a few hours testing the game, please contact A.V. Knights!
Revising temporary numbers and settings, like the cost in gold to enter each area of the world, and checking the destinations in the next area are correct when you arrive.
Refining environments and atmosphere.
Music and sound checks. I'm still looking for ways to add variation to the sound in Giant's Chalice and implementing them. One of the goals of this project is to keep the sound effects and music changing with continued gameplay.
Release
Collection of promotional materials. Screenshots, video clips, etc.
An Instruction Booklet will be included with your Giant's Chalice download. I'm putting the Booklet together as a little bonus. Just something to put a smile on your face.
And once we've gone through these two lists, the full game will finally be available! We're nearly there! Thanks for reading and remember you can still preview the game's soundtrack here, but this will only be here til the game's release!
-- Nathan